Visual Communication Department
Our alumni are able to design and lead new generation communication media.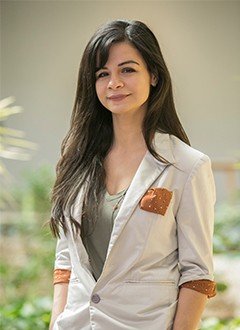 Asst. Prof. Dr. Balca Arda
Head of Department
The Visual Communication Design Department aims to raise individuals who will work as expert communication designers in Internet media, television, art, and design related fields.
Alumni Profile: 
Graduates are able to produce works in creative areas such as photography, video, web design, interface, and interactive design, service design, game design, and motion graphics.
Why Khas Visual Communication Design:
Our department provides students with the ability to solve problems by immersing students in a wide array of the theories and practices of art and design.
To widen their expertise, our students may receive double major or minor degrees from other departments. Our leading advisory commission compiled from the pioneers of the sector contributes significantly to the content and structure of our ever-developing program of visual communication design education. We also closely monitor and respond to the growing and changing demands of the sector with workshops led by designers, artists, and directors.
Study Abroad Opportunities: 
Our department has a double degree agreement with Coventry University (CU) in the UK. Our students are able to graduate with a double-degree after completing their senior year in a related department of CU.
Career Opportunities: 
In their four years of education, our students acquire a rich portfolio of work produced using various media tools, techniques and theories providing our graduates with job opportunities in the fields of:
Design (motion graphics, mobile application interface, game design, service design, web design, animation);
Creative direction (advertisement, art, and photography);
Production and post-production (cinema and television);
Higher education (master and Ph.D. degrees in art, design, and communication).
Contact
Kadir Has University Department of Visual Communication Design Kadir Has Caddesi 34230 Cibali-Fatih 

Phone: 0212 533 65 32 / 1501
Fax: 0212 532 06 45
E-posta: Ayfer Vatansever (Faculty Secretary)