THEQC Institutional Accreditation Program (IAP) Evaluation Team Visited Our University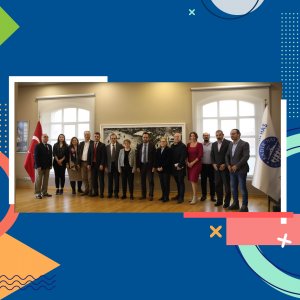 Within the scope of the Institutional Accreditation Program (IAP) of 2022 carried out by the Turkish Higher Education Quality Council (THEQC), a preliminary online visit was made on October 25, 2022, and a field visit was made between November 20-24, 2022, to evaluate our university.
The Evaluation Team, which is led by Prof. Dr. H. Güçlü Yavuzcan and includes Prof. Dr. Aytekin Çökelez, Prof. Dr. Belma Akşit, Prof. Dr. Mehmet Emin Arıcı, Prof. Dr. Tayfur Bayat, Assist. Prof. Bahar Çelik, Hasanaslan Türk, Yusuf Gocuk, and Neslihan Kınık, as evaluators, held meetings with the senior university management, academic, administrative, and research unit managers, academic and administrative staff members, students, and external stakeholders during these visits.
The IAP field visit program was concluded with the closing meeting held on Thursday, November 24, 2022.